The New Barbarians (Italian: I nuovi barbari) is a 1983 Italian post-apocalyptic action film directed by Enzo G. Castellari. The film was released in U.S. theaters by New Line Cinema as Warriors of the Wasteland in 1984. RiffTrax released their riff in November 2011.
Description and Preview
Edit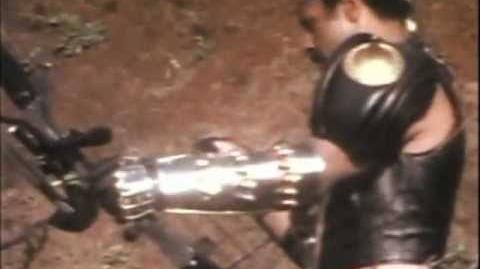 In the year 2019, after a nuclear war, humanity is reduced to a few starving groups. A ruthless gang called "The Templars" constantly raid settlers in an attempt to exterminate everyone in order to purge the Earth. A former Templar, Scorpion, along with his allies, prevents a small band of religious colonists from being massacred by the Templars.
Cast and Crew
Edit
Giancarlo Prete as Scorpion
Fred Williamson as Nadir
George Eastman as One
Anna Kanakis as Alma
Ennio Girolami as Shadow
Venantino Venantini as Father Moses
Massimo Vanni as Mako
Giovanni Frezza as Young Mechanic
Iris Peynado as Vinya
Andrea Coppola as Mako's Friend
External Links
Edit