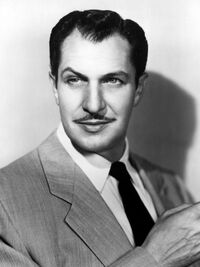 Actor, writer, and gourmet,
Vincent Leonard Price, Jr.
was born in St Louis, Missouri. He traveled through Europe, studied at Yale and became an actor. He made his screen debut in 1938, and after many minor roles, he began to perform in low-budget horror movies such as
House of Wax
(1953), achieving his first major success with
House of Usher
(1960). Known for his distinctive, low-pitched, creaky, atmospheric voice and his quizzical, mock-serious facial expressions, he went on to star in a series of acclaimed Gothic horror movies, such as
Pit and the Pendulum
(1961) and
The Abominable Dr. Phibes
(1971).
Not lacking a sense of humor, Price starred in a number of comedic films as well, including several turns as the lascivious Dr. Goldfoot. He appeared multiple times as the villain Egghead on the 1960s Batman TV series, and he later voiced the self-caricature Vincent VanGhoul on the cartoon series The 13 Ghosts of Scooby-Doo (1985).
He abandoned films in the mid-1970s, going on to present cooking programs for television - he wrote "A Treasury of Great Recipes" (1965) with his second wife, Mary Grant - but had two final roles in The Whales of August (1987) and Edward Scissorhands (1990). He also recorded many Gothic horror short stories for the spoken-word label Caedmon Records and he was featured speaking a short poem at the end of Michael Jackson's hit single "Thriller".
Vincent Price died at age 82 of lung cancer and emphysema on October 25, 1993.
Characters Played
Edit
Frederick Loren
Omar Khayyam
Riffography
Edit