The Undead is a 1957 horror film directed by Roger Corman starring Pamela Duncan, Allison Hayes, Richard Garland and Val Dufour. It follows the story of prostitute Diana Love (Duncan) who is put into a hypnotic trance by psychic Quintis (Dufour), thus causing her to regress back to a previous life. Hayes later starred in Attack of the 50 Foot Woman (1958). The film was released by American International Pictures as a double feature with Voodoo Woman. It was riffed by Mystery Science Theater 3000 and aired on the Sci-Fi Channel in March 1997.
Synopsis and Preview
Edit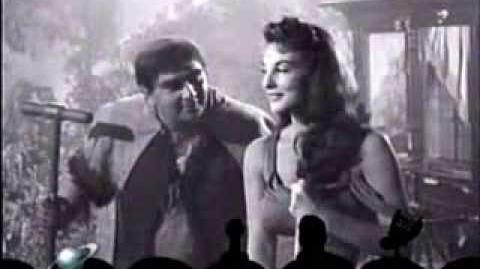 A researcher named Quintus (Garland) hypnotizes a streetwalker called Diana (Duncan) in an attempt to record her past-life experiences as a condemned witch named Helene in the Dark Ages. After numerous attempts by Quintus to influence her, Diana's consciousness decides not to alter the course of history and resigns herself to her fate.
Cast and Crew
Edit
Pamela Duncan as Diana Love/Helene
Richard Garland as Pendragon
Allison Hayes as Livia
Val Dufour as Quintus Ratcliff
Mel Welles as Smolkin
Dorothy Neumann as Meg-Maud
Billy Barty as The Imp
Bruno Ve Sota as Scroop
Aaron Saxon as Gobbo
Richard Devon as Satan
External Links
Edit
Ad blocker interference detected!
Wikia is a free-to-use site that makes money from advertising. We have a modified experience for viewers using ad blockers

Wikia is not accessible if you've made further modifications. Remove the custom ad blocker rule(s) and the page will load as expected.