The Lost City Chapter 4
"Well the idea was sound, but this doesn't really spice anything up unless one of us ISN'T tied up." - Ronin Fox
Riffed by
Ronin Fox Trax
Riffers
Ronin Fox
Series
The Lost City
Date Released
February 22, 2009
The Lost City Chapter 4: Doomed is the fourth part of the 1935 American adventure movie serial The Lost City directed by Harry Revier. 
Ronin Fox Trax released their VOD riff of the film in February of 2009 as part of the Lost City iRiff Crossover Project, which involved various iRiffing groups dividing the serial to riff the individual chapters.
Synopsis and Preview
Edit
[Spoilers Begin]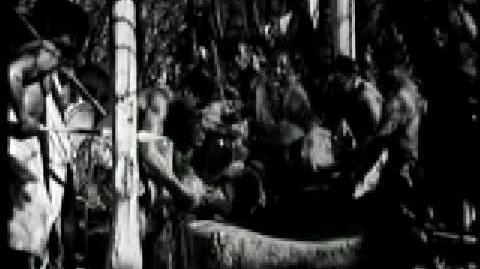 The scientist Manyus has been captured by horrible racist stereotypes and is about to be executed by a stone spiky deathtrap.  He is rescued in the nick of time by Bruce, Jerry, and Manyus's daughter Natcha.
As they try and escape, they are captured by the evil Butterfield and his natives and held in a campground.  They attempt several times to escape, all the while the evil Zolok commands his giant slaves and the loyal Appolyn to recover his former hostages.
[Spoilers End]
Cast and Crew
Edit
William "Stage" Boyd as Zolok
Kane Richmond as Bruce Gordon
Claudia Dell as Natcha Manyus
George "Gabby" Hayes as Butterfield
Billy Bletcher as Gorzo
Eddie Fetherston as Jerry Delaney
External Links
Edit
Ad blocker interference detected!
Wikia is a free-to-use site that makes money from advertising. We have a modified experience for viewers using ad blockers

Wikia is not accessible if you've made further modifications. Remove the custom ad blocker rule(s) and the page will load as expected.