The Incredible 2-Headed Transplant is a 1971 science fiction/horror film directed by Anthony Lanza. It is the earlier companion to the 1972 blaxploitation film The Thing with Two Heads. RiffTrax released their riff in April 2015.
Description and Preview
Edit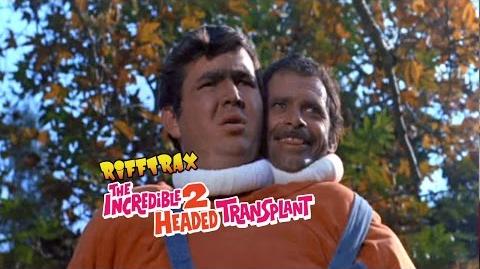 Dr. Roger Girard (Bruce Dern) is a rich scientist experimenting with head transplantation. His caretaker has a son, Danny (John Bloom), who is an extremely strong full-grown man, but he has the mind of a child. In an unusual turn of events, Manuel Cass (Albert Cole), a maniacal killer, has murdered Dr. Girard's caretaker and is badly injured himself. Dr. Girard decides to transplant the murderer's head onto Danny's body. The new creature, with one head of a murderer and the other with the mental capacity of an eight-year old attached to an extremely powerful body, begins wreaking havoc.
Cast and Crew
Edit
Bruce Dern as Dr. Roger Girard
Pat Priest as Linda Gerard
Casey Kasem as Dr. Ken Anderson
Albert Cole as Manuel Cass
John Bloom as Danny Norton
Berry Kroeger Dr. Max
Larry Vincent as Andrew Norton
Jack Lester as the Sheriff
Jerry Patterson as the Deputy
Darlene Duralia as Miss Pierce
Raymond Thorne as Motorcyclist #1
Gary Kent as Motorcyclist #2
Mary Ellen Clawsen as Female Motorcyclist
Janice P. Gelman as Teenage victim
Mike Espe as Teenage victim
External Links
Edit
Ad blocker interference detected!
Wikia is a free-to-use site that makes money from advertising. We have a modified experience for viewers using ad blockers

Wikia is not accessible if you've made further modifications. Remove the custom ad blocker rule(s) and the page will load as expected.