Terror from the Year 5000 (aka Cage of Doom) is a 1958 American science fiction film directed by Robert J. Gurney Jr. starring Ward Costello, Joyce Holden, John Stratton, Salome Jens and Fred Herrick. American International Pictures released the film as a double feature with The Screaming Skull.
It was riffed by Mystery Science Theater 3000 and aired on the Sci-Fi Channel in March 1997.
Preview and Description
Edit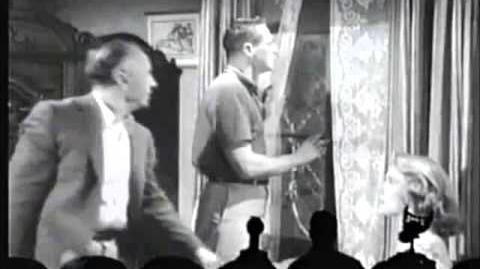 A time machine made by Professor Howard Erling (Frederic Downs) and his assistant Victor (John Stratton) brings back a deformed woman (Salome Jens) from c. 5200. The woman wants to take healthy males back with her to the future, which has been devastated by radioactivity, but her plans are foiled by Victor and Dr. Robert Hedges (Ward Costello).
Cast and Crew
Edit
Ward Costello as Dr. Robert Hedges
Joyce Holden as Claire Erling
Frederic Downs as Prof. Howard Erling
John Stratton as Victor
Salome Jens as Future Woman / Nurse
Fred Herrick as Angelo
Beatrice Furdeaux as Miss Blake
Jack Diamond as First Lab Technician
Fred Taylor as Second Lab Technician
Bill Downs as Dr. Blair
William Cost as Joe the Bartender
External Links
Edit
Ad blocker interference detected!
Wikia is a free-to-use site that makes money from advertising. We have a modified experience for viewers using ad blockers

Wikia is not accessible if you've made further modifications. Remove the custom ad blocker rule(s) and the page will load as expected.