Supersonic Man is a 1979 not-quite super hero film. RiffTrax released their riff in November 2011.
Description and Preview
Edit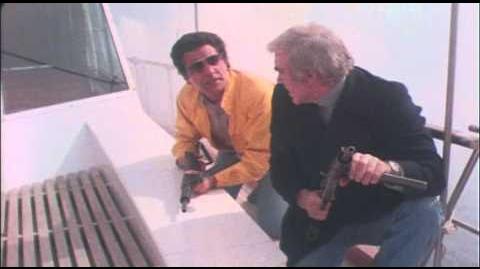 The alien Kronos is sent to the Earth, under the identity of Supersonic Man, in order to save it from Dr. Gulik's evil plans, namely rule the planet and kidnap Patricia, an eminent scientist's daughter and Supersonic's love interest, which involve such dangerous methods that could "break the Galaxy's equilibrium". This superhero possesses mighty powers such as flying, extraordinary strength, throwing fire and transforming handguns into bananas; he is also given a human identity, Paul, a reporter who can change back to superhero by activating a watch device and saying: "May the Great Force of the Galaxy be with me."
Cast and Crew
Edit
Antonio Cantafora as Paul
Cameron Mitchell as Dr. Gulik
José Luis Ayestarán as Kronos
Diana Polakov as Patricia Morgan
José María Caffarel as Prof. Morgan
Frank Braña as Peterson
Javier De Campos as Borracho
Tito García as Joe
Quique Camoiras as Bill
Luis Barboo as Harrison
External Links
Edit
Ad blocker interference detected!
Wikia is a free-to-use site that makes money from advertising. We have a modified experience for viewers using ad blockers

Wikia is not accessible if you've made further modifications. Remove the custom ad blocker rule(s) and the page will load as expected.