Read RiffWiki's Interview with James Cruise, aka Ronin Fox!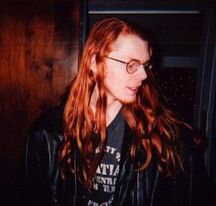 James Cruise a.k.a Ronin Fox is the founder of Ronin Fox Trax.  He serves as the star and head writer.
Growing up in the Dayton Ohio area, James Cruise was a fan of Mystery Science Theater 3000 since the mid 90s, After moving to Denver Colorado, James came across the Rifftrax site in early 2007 and quickly started to make plans to produce fan-content.  Spurred on by PS Productions "Riff of Khan" fan-riff for Star Trek II and the Rifftrax Round Table riff of Harry Potter and the Sorcerers Stone (the project that laid the groundwork for Riff Raff Theater) James created his first riff, He-Man She-Ra The Secret of the Sword in November of 2007.  He used the name Ronin Fox as his character, naming it after his online handle.  To go with the theme of the name, he branded the track Fox Trax and released it for free though a file sharing site.  For his next releases, he changed the brand to Ronin Fox Trax after learning that the old name had been used for other products.  
Producing two more free riffs in 2008, the announcement of the iRiffs site prompted James to start producing content exclusively for the new platform. Today Ronin Fox Trax releases content both on iRiffs and a Gumroad store.  He currently lives in Houston Texas with his wife and frequent riff-partner Erica Cruise.
James also provides the voice of Ronin Fox Trax sync voice, Nigel.
James was the subject of the inaugural RiffWiki Interview in August 2014.
Riffography
Edit
As riffer and writer:
As writer:
External links
Edit
Ad blocker interference detected!
Wikia is a free-to-use site that makes money from advertising. We have a modified experience for viewers using ad blockers

Wikia is not accessible if you've made further modifications. Remove the custom ad blocker rule(s) and the page will load as expected.