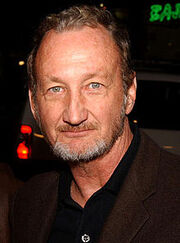 Robert Barton Englund
(b. June 6, 1947) is an American actor, voice-over artist, singer, and director best known for playing the character
Freddy Krueger
in the
A Nightmare on Elm Street films
.
Englund began to study acting at the age of 12 in a children's theater program at California State University, Northridge. He continued to study at Cranbrook Theatre School, California State University, and Oakland University.
He auditioned for the role of Han Solo in the original 1977 Star Wars while visiting his friend Mark Hamill, but his first film role was in the film Eaten Alive (A 1977 Tobe Hooper horror film). He was type-cast in either nerd or redneck type roles for quite some time until he gained attention as the alien Willie in the 1983 television mini-series V, a role he would continue as a series regular in V: The Final Battle and V: The Series.
The next year he accepted the role of Freddy Krueger in Wes Craven's original A Nightmare on Elm Street film. The role brought him international fame and made him perhaps the most recognized horror film icon of the era. His status helped him secure leading roles in several genre films like The Phantom of the Opera (1989), The Mangler (1995) and 2001 Maniacs (2005) He has performed in several television roles, including being the host and star of Nightmare Café (1992) and Freddy's Nightmares, the later being the short lived television spinoff of A Nightmare on Elm Street. He's also appeared in Babylon 5, MacGyver, Masters of Horror, MadTV, Sliders, and Knight Rider. He has also branched into voice acting, providing voices for Felix Faust in Justice League, The Riddler in The Batman, The Vulture in The Spectacular Spider-Man, and Dormammu on The Super Hero Squad Show.
He made his directorial debut in 1988 with the film 976-EVIL.
He has received two Saturn Award nominations for best supporting actor; one for A Nightmare on Elm Street 3 and another for A Nightmare on Elm Street 4.
Riffography
Edit
Ad blocker interference detected!
Wikia is a free-to-use site that makes money from advertising. We have a modified experience for viewers using ad blockers

Wikia is not accessible if you've made further modifications. Remove the custom ad blocker rule(s) and the page will load as expected.