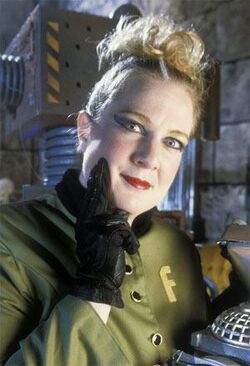 Pearl Forrester
is a character on the
Mystery Science Theater 3000 television
series, played by
Mary Jo Pehl
. Forrester was the mother of Dr. Clayton Forrester (Trace Beaulieu). Initially devised as a guest character, Pearl would take on an increasingly important role in the series, first as a replacement supporting character for Dr Forrester and subsequently replacing him as the lead mad scientist.
Pearl's first appearance was in episode 607, Bloodlust!. Her character was featured in the opening and closing host segments when she paid a visit to Dr Forrester and his current assistant, TV's Frank. It became apparent that Frank had become a firm friend of Pearl's through a long correspondence, and Pearl was much more interested in spending time with him than her own son. At the end of the sixth season, TV's Frank died (and was guided to 'Second Banana Heaven' by 'Torgo The White', a reference to the reborn Gandalf the White from Lord of the Rings). Forrester moved in to help her son at the beginning of the seventh season, and became a regular cast member from that point until the end of the show's tenth and final season.
Ad blocker interference detected!
Wikia is a free-to-use site that makes money from advertising. We have a modified experience for viewers using ad blockers

Wikia is not accessible if you've made further modifications. Remove the custom ad blocker rule(s) and the page will load as expected.