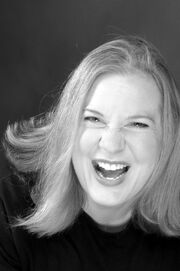 Mary Joseph "Mary Jo" Pehl
(born February 27, 1960 in Circle Pines, Minnesota) is an American writer, actress and comedienne. She is best known for her various roles on the television series
Mystery Science Theater 3000
. She portrayed the sinister Mrs.
Pearl Forrester
, the late Dr. Clayton Forrester's mother, as well as serving as one of the show's writers.
She later became the only former MST3K performer to be a guest riffer at RiffTrax. She was also a regular riffer for Joel Hodgson's Cinematic Titanic.
Riffography
Edit
See Main Article Mary Jo Pehl's Complete Riffography
External Links
Edit
Ad blocker interference detected!
Wikia is a free-to-use site that makes money from advertising. We have a modified experience for viewers using ad blockers

Wikia is not accessible if you've made further modifications. Remove the custom ad blocker rule(s) and the page will load as expected.