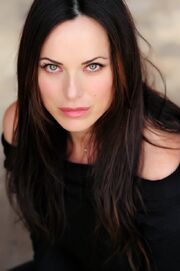 Kristin Minter
(born November 22, 1965) is an American actress. She is best known for playing the role of Kathy Winslow in the Vanilla Ice vehicle Cool as Ice. Minter is known for the character of Rachel MacLeod in "Homeland," "Deliverance," and "Promises," three Season Four episodes of Highlander: The series. She has taken bit roles in numerous television series, most notably in ER in which she played the character Randi Fronczak for 72 episodes from 1995-2003.
Riffography
Edit
Ad blocker interference detected!
Wikia is a free-to-use site that makes money from advertising. We have a modified experience for viewers using ad blockers

Wikia is not accessible if you've made further modifications. Remove the custom ad blocker rule(s) and the page will load as expected.