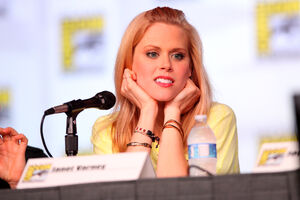 Janet Varney
is an American actress best known for hosting TBS's Dinner and a Movie and the voice of Korra in The Legend of Korra. Varney was born in Arizona and is an alumna of San Francisco State University where she majored in theater. She later pursued a career in interior design before eventually finding her way back into acting.
Varney was co-host of The Hollywood Show with Brian Unger, a recurring player on Norm Macdonald's sketch show Back to Norm and an ensemble player on Crossballs, all for Comedy Central. She also starred in the short-lived FOX comedy "Happy Hour." In 2007, Varney appeared in the short films Random Acts of Kindness, Die Hardly Working, Eternal Waters, Worldly Possession, The Losers, Keep Off Grass, and Dress For Success which were made during the reality show On the Lot. She has recently appeared as recurring character "Bev" for the web series Back on Topps with Randy and Jason Sklar. Starting in 2008, she began starring in the HBO television series Entourage, playing television producer Amy Miller who works alongside Eric and Charlie. Varney was also cast in a movie called Best Player, starring opposite Jerry Trainor and Jennette McCurdy. Dinner and a Movie
In 2005, Varney replaced Lisa Kushell as the hostess of the TBS cooking and entertainment show, Dinner and a Movie. Since then, she has appeared, alongside host Paul Gilmartin and chef Claud Mann, in each episode introducing movies and injecting humor during the preparation of a creative dinner to go with some theme of the movie.
She is a frequent contributor to RiffTrax Presents with Cole Stratton.
Riffography
Edit
External Links
Edit
Ad blocker interference detected!
Wikia is a free-to-use site that makes money from advertising. We have a modified experience for viewers using ad blockers

Wikia is not accessible if you've made further modifications. Remove the custom ad blocker rule(s) and the page will load as expected.