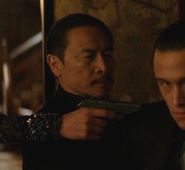 James Lew (born September 6, 1952) is a Korean-American stunt performer, martial artist, stunt coordinator and actor who has appeared in over 200 movie and television show productions. His credits include: Big Trouble in Little China, Best of the Best, American Ninja 5, Hot Shots! Part Deux, Timecop, Escape from L.A. (with Bruce Campbell), Lethal Weapon 4, The Last Samurai (with Tom Cruise), Paris, 18 Fingers of Death!, and Angel of Death.
Riffography
Edit
Ad blocker interference detected!
Wikia is a free-to-use site that makes money from advertising. We have a modified experience for viewers using ad blockers

Wikia is not accessible if you've made further modifications. Remove the custom ad blocker rule(s) and the page will load as expected.