Jack Frost (Russian: Морозко, Morózko) is a Soviet film (Gorky Film Studio) originally released in 1964. It was based a traditional Russian fairy tale Morozko known in English as Father Frost. A version with a new soundtrack was released in 1966 in the U.S. It was directed by Aleksandr Rou, and starred Eduard Izotov as Ivan, Natalya Sedykh as Nastenka, and Oleksandr Khvylia as Father Frost. The script was written by Nikolai Erdman. The soundtrack was composed by Nikolai Budashkin, who was inspired by the works of Nikolai Rimsky-Korsakov. It was riffed by Mystery Science Theater 3000 and aired on the Sci-Fi Channel in April 1997.
Synopsis and Preview
Edit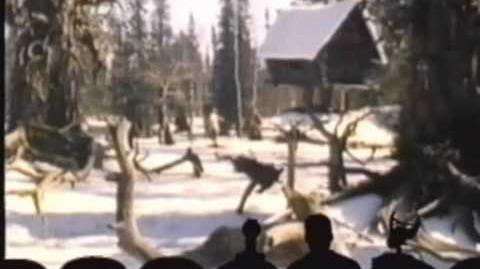 Russian fairy tale dealing with Ivan (Izotov) and Nastenka (Sedykh), who go through the strangest situations to be with one another. Ivan is transformed by a Mushroom Pixie into a bear and is almost baked by an evil witch who controls trees. Nastenka is given the Cinderella treatment by her mother and her sister, who is jealous of her long braided hair. Jack Frost (Khvylya) himself doesn't appear until late in the movie.
Cast and Crew
Edit
Alexander Khvylya as Jack Frost
Natalya Sedykh as Nastenka
Eduard Izotov as Iván
Inna Churikova as Marfúshka
Pavel Pavlenko as Nastenka's father
Vera Altayskaya as Nastenka's stepmother
Georgy Millyar as Baba Yaga
Mikhail Yanshin as Father Mushroom (voiced by Galina Borisova)
Anatoly Kubatsky as bandit chief
Valentin Bryleev as suitor
Tatyana Pelttser as suitor's mother
Tatyana Barysheva as matchmaker
Varvara Popova as old blind woman
Zinaida Vorkul as Ivan's mother
External Links
Edit
Ad blocker interference detected!
Wikia is a free-to-use site that makes money from advertising. We have a modified experience for viewers using ad blockers

Wikia is not accessible if you've made further modifications. Remove the custom ad blocker rule(s) and the page will load as expected.