Honor and Glory is a not-quite action film. RiffTrax released their riff in November 2016.
Description and Preview
Edit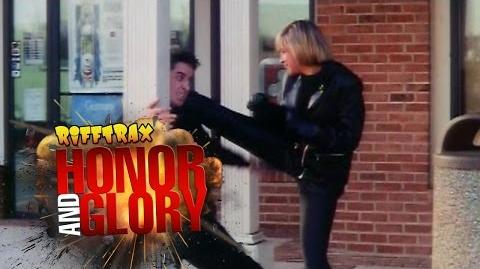 FBI agent Tracy Pride is on a mission to capture businessman Jason Slade, who is involved in extortion and murder. Teaming up with her is her sister Joyce, a news reporter; Dragon, Tracy's partner in Hong Kong, and Jake, a bodyguard who worked for Slade. Can they stop Slade before it's too late?
Cast and Crew
Edit
Cynthia Rothrock as Tracey Pride Donna Jason as Joyce Pride John Miller as Jason Slade Chuck Jeffreys as Jake Armstrong Gerald Klein as Silk Robin Shou as Dragon Lee Richard Yuen as Hideo Yip Yim Hing as Mickey Leo Rocca as John Pride
External Links
Edit
Ad blocker interference detected!
Wikia is a free-to-use site that makes money from advertising. We have a modified experience for viewers using ad blockers

Wikia is not accessible if you've made further modifications. Remove the custom ad blocker rule(s) and the page will load as expected.