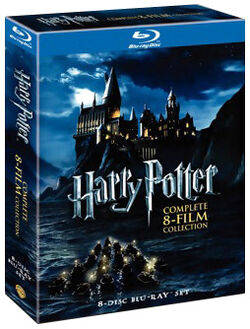 The Harry Potter film series
is a feature film series based on the Harry Potter novels by author
J.K. Rowling
. The series is distributed by Warner Bros. and consists of eight fantasy films beginning with
Harry Potter and the Sorcerer's Stone
(2001) and culminating with Harry Potter and the Deathly Hallows – Part 2 (2011). It is the highest-grossing film series in inflation unadjusted dollars, with $7.7 billion in worldwide receipts. Each film is individually among the 50 highest-grossing films in inflation unadjusted dollars and was a critical success. To date,
RiffTrax
has riffed all but the final film.
Riffography
Edit
Ad blocker interference detected!
Wikia is a free-to-use site that makes money from advertising. We have a modified experience for viewers using ad blockers

Wikia is not accessible if you've made further modifications. Remove the custom ad blocker rule(s) and the page will load as expected.