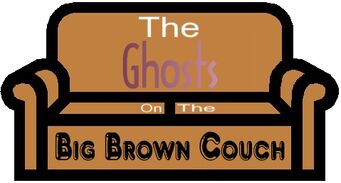 Ghosts On The Big Brown Couch is a four-member iRiff group that has been producing episodes since September of 2012.
The group concentrates on horror or sci-fi/fantasy movies, although it has allowed at least one diversion into disaster film.
The show's rather unique approach is that each riff includes a mini "episode"; an animated intro and epilogue (as well as occasional intermissions) that tell the story of whatever is going on in the ghosts' "lives" on the night they watch each film.
Ghosts On The Big Brown Couch
tells the tale of Babs, Dori, and Becky, three young ladies who once lived in a fifth-story apartment in New York City. They still inhabit the place, but are now ghosts; they fell to their deaths while arguing over whether or not they had to watch
The Monster Squad,
Becky's favorite movie (during their argument the titular brown couch tipped over, hurling them through a window).
Johnny is a young man who has recently moved into the apartment, only to be introduced to / tormented by the three playful spirits. As it turns out, he is the only living person who can see the ghosts, most likely due to his experience working at the local morgue. After realizing that he is more-or-less stuck with the ghosts, he agrees to help them with their plight: The Grim Reaper, dishing out ironic punishment for the inflexibility that led to the ladies' deaths, has sentenced their spirits to remain trapped within the apartment until they find a film which they agree that they all love. Grim is cheating, however, by making sure that Johnny's Cheepflix account only sends them truly awful movies.
Cast and Crew
Edit
Riffography
Edit
Ad blocker interference detected!
Wikia is a free-to-use site that makes money from advertising. We have a modified experience for viewers using ad blockers

Wikia is not accessible if you've made further modifications. Remove the custom ad blocker rule(s) and the page will load as expected.