Final Justice is a 1985 film starring Joe Don Baker and directed by Greydon Clark. It follows the exploits of a Texas sheriff who overturns a Maltese city to find the mobster who killed his partner. It was riffed by Mystery Science Theater 3000 and aired on the Sci-Fi Channel in June 1999. It was added to the RiffTrax library in January 2016 as an entry in the "MST3K Monday" series.
Description and Preview
Edit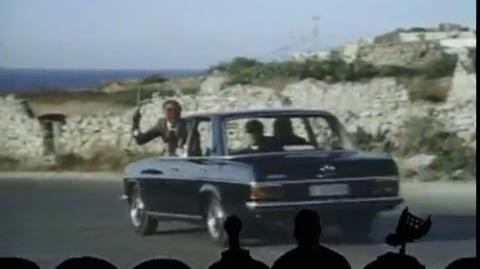 [Spoilers Begin]
(Spoilers Begin) Joe Don Baker plays Texas sheriff Thomas Jefferson Geronimo III. His partner, the former sheriff, is killed by an Italian mobster. He finds the criminal, a man named Joseph Palermo, and escorts him back to Europe, only to lose him in the capital city of Valletta in Malta. He rejects the assistance of local law enforcement and pursues Palermo himself. A cat-and-mouse game follows, with car chases, gunfights, fistfights and boat chases. [Spoilers End]
Cast and Crew
Edit
Joe Don Baker as Deputy Sheriff Thomas Jefferson Geronimo III
Rossano Brazzi as Don Lamanna
Venantino Venantini as Joseph Palermo
Patrizia Pellegrino as Gina
Bill McKinney as Chief Wilson
Helena Abella as Maria
Lino Grech as Supt. Mifsud
Tony Ellul as Young Officer
Joe Theuma as Fosta
Bettina Amato-Gauci as Anna
External Links
Edit
Ad blocker interference detected!
Wikia is a free-to-use site that makes money from advertising. We have a modified experience for viewers using ad blockers

Wikia is not accessible if you've made further modifications. Remove the custom ad blocker rule(s) and the page will load as expected.