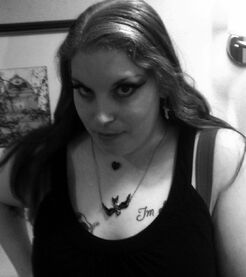 Erica Lyn Cruise
is a riffer featured on
Ronin Fox Trax
. Since debuting on the riff of
A Nightmare on Elm Street 4
she as been the most frequent riffer for the group other than
Ronin Fox
. Debuting under the name Vamperica, Erica temporarily changed her riffing name to Luna Tic-Toc while riffing
My Little Pony The Movie.
Erica (Then Erica Lyn Smith) met James Cruise in 2009 while both lived in Colorado. A fan of MST3K since the Sci-Fi channel days, Erica and James bonded quickly over riffing and as they began dating James invited her to try recording a riff with him. Erica continued to record and co-write for Ronin Fox Trax on numerous releases. An avid fan of horror films, Erica's riffing persona was named Vamperica to incorporate her own name while paying tribute to classic horror-movie hostesses like Vampira. She, therefore, depicts herself as a vampire on riffs.
Erica and James were married in early 2011 and currently live in Houston, TX.
Riffography
Edit
External Links
Edit
Ad blocker interference detected!
Wikia is a free-to-use site that makes money from advertising. We have a modified experience for viewers using ad blockers

Wikia is not accessible if you've made further modifications. Remove the custom ad blocker rule(s) and the page will load as expected.