Dragnet: Ep. 18 - The Big Seventeen
"We had a fair idea what the root of all the trouble was."

"Elvis Presley's sexy swiveling hips!" - Kyle

Riffed by
OneWallCinema
Riffers
Kevin & Kyle
Series
Dragnet
Date Released
Nov. 11, 2008
The Big Seventeen is from the second season of the crime drama television series Dragnet which originally aired on November 6, 1952. OneWallCinema released their Video On Demand (VOD) riff of this episode in November 2008. This was their first publicly released riff.
Synopsis and Preview
Edit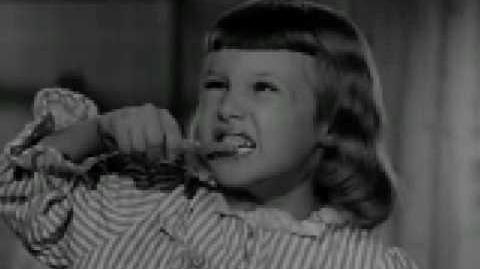 [Spoilers Begin]
Upper middle-class teenagers in Los Angeles are going crazy. They trash a movie theater, beating up the manager and pushing a young man through a plate glass window. Sergeant Friday must get to the bottom of what is causing this to happen. Spoiler alert, it's drugs. [Spoilers End]
Cast and Crew
Edit
Jack Webb as Sgt. Joe Friday
Herbert Ellis as Officer Frank Smith (as Herb Ellis)
Allene Roberts as Evelyn Maxford
Willis Bouchey as Harold Everson Sr. (as Bill Bouchey)
Edwin Bruce as Harold Everson Jr.
Forrest Lewis as Clyde Barton
Vivi Janiss as Frances Demmering
Herb Vigran as Jocko Harris
This is the city. Two million people, almost a million kids. The people have tried to plan for 'em. They built schools for 'em to learn in; beaches and parks for 'em to play in. Most of the kids follow the course as planned. A few of 'em get lost on the way. When they do, it makes trouble for me. I'm a cop. - Sgt. Joe Friday
External Links
Edit
Ad blocker interference detected!
Wikia is a free-to-use site that makes money from advertising. We have a modified experience for viewers using ad blockers

Wikia is not accessible if you've made further modifications. Remove the custom ad blocker rule(s) and the page will load as expected.