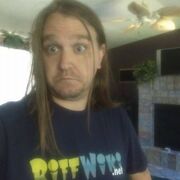 Dave Chadwick
, aka Sugar Ray Dodge, is a former US Army Recruiter, Iraq War veteran, graphic designer and host of
SRD's Movie Night
. He has written three novels, Happy Valley, Son of Santa and The Tumbleweed Dossier. He is also the founder of RiffWiki.net. He lives in Utah.
Riffography
Edit
Ad blocker interference detected!
Wikia is a free-to-use site that makes money from advertising. We have a modified experience for viewers using ad blockers

Wikia is not accessible if you've made further modifications. Remove the custom ad blocker rule(s) and the page will load as expected.