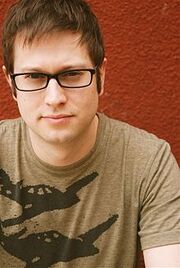 Read RiffWiki's Interview with Cole Stratton!
Cole Stratton, is an American actor, comic, podcaster, writer and producer, best known as one of the Co-Founders of SF Sketchfest, the San Francisco Comedy Festival and the co-host of the Pop My Culture Podcast. Stratton was born in Lansing, Michigan and moved out to Davis, California when he was 9 years old, where he attended Davis Senior High School. He graduated with a degree in Cinema from San Francisco State University. He moved to Los Angeles in 2003, where he currently resides.
Stratton co-founded SF Sketchfest, the San Francisco Comedy Festival with David Owen and Janet Varney in 2002. One of the most prestigious festivals in the country, it showcases sketch, stand-up, improv, tributes, movies, cast reunions, musical and alternative comedy. Past performers include Conan O'Brien, The State, Gene Wilder, Garry Shandling, The Kids in the Hall, Mr. Show, Paul Reubens, Upright Citizens Brigade, Neil Patrick Harris and many more. He's the co-host of the Pop My Culture Podcast with Vanessa Ragland. The podcast was named the #2 Best Comedy Podcast of the Moment by Rolling Stone, one of the top 20 Comedy Podcasts of 2013 by Paste Magazine and one of 10 Favorite Comedy Podcasts by IFC and Mashable.com. The episodes are available on iTunes and on the Nerdist network of podcasts.
He is a frequent contributor to RiffTrax Presents with Janet Varney.
Riffography
Edit
External Links
Edit
Ad blocker interference detected!
Wikia is a free-to-use site that makes money from advertising. We have a modified experience for viewers using ad blockers

Wikia is not accessible if you've made further modifications. Remove the custom ad blocker rule(s) and the page will load as expected.