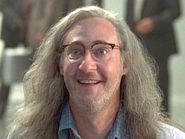 Brent Jay Spiner (born 2 February 1949 in Houston, TX, USA) is an actor best known for playing the android Starfleet officer Lieutenant Commander Data on "Star Trek: The Next Generation", in four Star Trek: TNG films (including Generations) and the final episode of the spin-off series "Enterprise" (where he also played another Soong character). He also played Data's "brother", Lore, and "father", Doctor Noonian Soong, in various episodes of Next Generation. In 2002, he played B-4, a duplicate of the Data character in the final TNG film Star Trek: Nemesis.
Spiner's additional film credits include: Independence Day, Phenomenon (with John Travolta), South Park: Bigger, Longer and Uncut, I Am Sam and The Master of Disguise. He had other television roles on the shows "Gargoyles" (with Jonathan Frakes, Marina Sirtis and Michael Dorn), Zak Penn's "Alphas", "Warehouse 13" and "Ray Donovan".
Characters Played
Edit
Riffography
Edit
Ad blocker interference detected!
Wikia is a free-to-use site that makes money from advertising. We have a modified experience for viewers using ad blockers

Wikia is not accessible if you've made further modifications. Remove the custom ad blocker rule(s) and the page will load as expected.