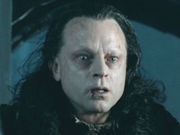 Bradford Claude "Brad" Dourif (pronounced /ˈdɔrɨf/; born March 18, 1950) is an American actor, voice artist, and comedian who gained early fame for his portrayal of Billy Bibbit in the film One Flew Over the Cuckoo's Nest (with Jack Nicholson), which brought him Golden Globe and BAFTA Awards, as well as an Academy Award nomination.
He is also known for voicing Chucky in the Child's Play franchise and had supporting roles in Ragtime (with Samuel L. Jackson), Mississippi Burning (with Willem Dafoe and Gene Hackman), and Dune (with Patrick Stewart).
On television, Dourif has appeard on several television series, including a 3-episode arc on "Star Trek: Voyager". He was lauded for his role as Doc Cochran in the HBO western "Deadwood", for which he earned an Emmy Award nomination.
Characters Played
Edit
Riffography
Edit
Ad blocker interference detected!
Wikia is a free-to-use site that makes money from advertising. We have a modified experience for viewers using ad blockers

Wikia is not accessible if you've made further modifications. Remove the custom ad blocker rule(s) and the page will load as expected.