Alien Outlaw is a 1985 not-quite sci-fi western film directed by Phil Smoot. It stars Lash LaRue, Kari Anderson, Sunset Carson and Stephen Wineguard. RiffTrax released their riff in February 2015.
It is the second 2015 riff directed by Phil Smoot and to feature Lash LaRue, the first being The Dark Power, continuing a concept that originated with the 2012 riffs of Future Force/Future Zone and Mutant/Nightmare at Noon, as well as 2013's Dr. Who and the Daleks/Dr. Who: Daleks - Invasion Earth: 2150 A.D.
Description and Preview
Edit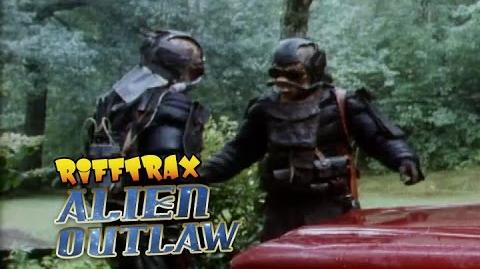 A handful of cowboys and cowgirls fend off an interstellar attack in this sci-fi-Western hybrid. A platoon of space aliens land in a remote desert, and they set out to enslave the humans they encounter; however, a small band of beautiful women are determined to stop the space creatures with a little help from an old cowhand who has a way with the whip. Alien Outlaw features appearances from Western movie stalwarts Lash LaRue and Sunset Carson, as well as fitness trainer Kari Anderson.
Cast and Crew
Edit
Stephen Winegard as Wes
Kimberly Mauldin as Girlfriend
Stuart Watson as Leader Alien
Sunset Carson as Sunset
Kari Anderson as Jesse Jamison
Bill Cody as Man on Bench
and Lash La Rue as Alex Thompson
External Links
Edit
Ad blocker interference detected!
Wikia is a free-to-use site that makes money from advertising. We have a modified experience for viewers using ad blockers

Wikia is not accessible if you've made further modifications. Remove the custom ad blocker rule(s) and the page will load as expected.