Alfred Hitchcock Presents: The Cheney Vase
"I want you out of this building by 3:00"

"I want you in my arms forever." - Kevin

Riffed by
OneWallCinema
Riffers
Kevin & Kyle
Series
Alfred Hitchcock Presents
Date Released
Jul. 06, 2012
The Cheney Vase is an episode from the first season of the television series Alfred Hitchcock Presents which originally aired in December of 1955.
OneWallCinema released their Video On Demand (VOD) riff of this episode in July 2012. This is the sixth publicly available riff from the group. It is also the first release to contain short films created by the group in the commercial breaks as well as a riff of a spam advertising post for Welcome To Orange County Cosmetic Dentist Family Dentist, General Dentistry that appeared on the RiffTrax site in the iRiffs section in June of 2012.
Synopsis and Preview
Edit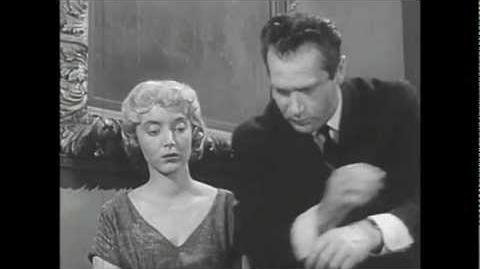 [Spoilers Begin] Lyle Endicott is a smooth manipulator, but he's not smooth enough to save his job at a Manhattan art museum. And his talent doesn't seem to have gotten him anywhere in life. "Why not just once can something go right for me?" he wonders. Luck finally seems to shine on him when he overhears his boss, Mr. Koether, talking to one of the museum's patrons, Martha Cheney, an invalid who uses a wheelchair. She and Koether call each other by their first names, but their friendship isn't enough to persuade Miss Cheney to sell him the famous Cheney vase. Lyle realizes the heirloom is worth a lot of money -- money that can be his if he manages to insinuate himself into the old woman's life. [Spoilers End]
Cast and Crew
Edit
External Links
Edit
Ad blocker interference detected!
Wikia is a free-to-use site that makes money from advertising. We have a modified experience for viewers using ad blockers

Wikia is not accessible if you've made further modifications. Remove the custom ad blocker rule(s) and the page will load as expected.